Charles J. Durante, Connolly Gallagher Partner, Elected President of DSBA
June 17, 2022 – Wilmington – Amidst the music of Beatles tribute band, the Beat-Tells, keynote speakers Deborah Enix-Ross (President of the ABA) and David Sanger (New York Times correspondent), delicious food, Moo-Mobile ice cream, an award for Delaware's own Michael N. Castle, the Chief Justice's State of the Judiciary and a panel discussion on diversity, DSBA's newest president took the stage to receive the gavel from outgoing president Kathleen M. Miller.  The theme of the Bench and Bar this year was "Come Together," a nod to the fact that we are all emerging from the COVID-19 cave and that it was time to be together.  Chuck Durante's own message amplified that theme by focusing on Delaware's rich history of cooperation and civility.  He told the audience of nearly 400 attorneys that "lawyers can help our society strengthen itself with collective and cooperative action," saying that like previous Delawarean legislatures, we can make bipartisan advances to solve many of our divisive issues, including, preventing "the incineration of the planet."  Chuck, a sports afficionado and former sportscaster, had a parting anecdote from former Phillies owner, Ruly Carpenter actions when he lost the 1977 league championships and still nonetheless wished the opposing team "good luck" and offered his hospitality to them in a city less gracious after a loss such as this.  Like, Carpenter, Chuck noted, always think of how the other person feels and be a better person.
DSBA Holds "Last" Hybrid Annual Meeting; Kathy M. Miller becomes President; Awards to Judge Carpenter and Mike Kelly
June 22, 2021 –
Michael McTaggart welcomed live guests back to the DSBA Conference Rooms where about forty members of the judiciary, family members and guests of incoming President Kathy Miller and awardee Judge William Carpenter joined over 90 online Zoom attendees of the 2021 Annual Meeting.  President McTaggart called it "the first and hopefully last hybrid annual meeting."  Mike highlighted his accomplishments as President which included revamping the Diversity Equity and Inclusion Committee, setting a lower membership dues rate for government attorneys, strengthening the Delaware Law Review editorial board, and encouraging sections to become involved in community service.  President Miller than outlined her proposals for the upcoming year which includes diversity initiatives creating four diversity internships for Superior Court, Federal Court and the Bankruptcy Court and encouraging diverse participation in all aspects of DSBA's activities.  The First State Distinguished Service Award was presented by President Judge Jan R. Jurden to Judge William C. Carpenter, Jr., stating that Judge Carpenter was a judge who consistently gave his time and knowledge to big issues and that she and many others only needed to approach Judge Carpenter when an important job needed to be done – that "her search began and ended with Judge Carpenter" because he was the most knowledgeable and competent person to ask and he always said yes.  Vice Chancellor Glasscock presented Michael P. Kelly with the Profiles in Courage Award, a special award which recognizes an attorney who overcomes diversity and difficulty but remains a beacon for other attorneys, showing fierce courage and legal professionalism.  Mike, who participated by Zoom due to medical treatments, graciously accepted the award, claiming he was not worthy of it, but ultimately was reassured by all in attendance that he was more than worthy of our recognition.
TO VIEW A VIDEO OF THE 2021 ANNUAL MEETING, CLICK THE BUTTON BELOW:
Community Service Committee Seeks Support for Ministry of Caring
April 22, 2021 –
The DSBA Community Service Committee is seeking support in making donations to the Ministry of Caring.  The Ministry of Caring has 20 programs that help people that may be homeless, hungry, or in need of assistance.  The Ministry of Caring has a Wish List for their Shelters, Child Care Centers, and The Emmanuel Dining Room which can be found HERE. DSBA would love it if you, your law firm, and family would consider making a donation and will be making a drop-off to the Ministry of Caring on Thursday, May 27th at 1 p.m.  If you would like to have items picked up from your law office, please contact a member of the committee who would be happy to make arrangements to pick up the items from your office on Wednesday May 26th or Thursday May 27th.  If you would like to drop-off your donations at the Ministry of Caring, the committee will be delivering all items at 1 p.m. on Thursday, May 27th.  The Ministry of Caring donation drop-off is at the Emmanuel Dining Room West, located at 121 N. Jackson Street (corner of 2nd and Jackson Street), Wilmington, Delaware.
The committee thanks you in advance for your support.  There will be other service projects in the near future.  Stay tuned!   — THE AD HOC COMMITTEE ON COMMUNITY SERVICE:  Chair, Sam Pratcher III, Sonia Augusthy, Bill Brady, Kaan Ekiner
DSBA Condemns Violence Against Asian Americans
March 31, 2021 – The Executive Committee of the DSBA endorses the following statement by the Diversity Equity and Inclusion Committee of the Delaware Bar Association:
The Diversity, Equity, and Inclusion Committee of the Delaware State Bar Association denounces the growing violence and harassment targeted at members of the Asian American and Pacific Islander (AAPI) community in the United States.  The history of racism, bias, and discrimination against members of the AAPI community in this nation stems back centuries, and has often remained invisible.  We grieve alongside the AAPI community, and, as part of our mission to promote diversity, equity, and inclusion in the Delaware legal community and beyond, we commit to speak up, educate, and act to advance change and encourage others to do the same.
THE CHRISTOPHER W. WHITE ACCESS TO JUSTICE "BREAKFAST" AWARDS Held October 29, 2020, 9 a.m. via Zoom
The Awards Ceremony was held via Zoom this year and not the usual breakfast at the Chase Center.  President Mike McTaggart introduced speakers and welcomed a Zoom crowd of 111 people.  Honorees included:
ACHIEVEMENT AWARD – Wilson A. Gualpa, Esq., Morris James LLP
COMMITMENT AWARD – Douglas B. Canfield, Esq., Legal Services Corporation of Delaware, Inc.
SERVICE TO CHILDREN AWARD – H. Garrett Baker, Esq., Elzufon Austin & Mondell, P.A.
LEGAL PROFESSIONAL PRO BONO SERVICE AWARD – Karen Raison Holness, Senior Paralegal of Bank of America
LEADERSHIP AWARD – Potter Anderson & Corroon
Also: United Way of Delaware Christopher J. Battaglia Awards – Reed Smith LLP (Small Firm); Potter Anderson & Corroon (Large Firm); Morris, Nichols, Arsht & Tunnell (Emerald Award; Most Tocqueville Society Members)
IF YOU MISSED THE AWARDS, Feel free to view the ceremony by clicking the button below:
Ruth Bader Ginsburg 1933-2020
The Delaware State Bar Association mourns the loss of a great jurist, U.S. Supreme Court Justice Ruth Bader Ginsburg who died Friday night at the age of 87.  Justice Ginsburg was a friend to DSBA and was honored at a 2018 event in Washington, D.C., at which she was made an honorary member of the Women and the Law Section of our association.  RBG, as she became affectionately known, exemplified the best in judicial jurisprudence and the search for justice. Her steadfast passion championing rights of women and others without power or influence was admirable, irrespective of one's agreement with her stand.  And many of the fights she fought were to gain recognition for rights which are now routinely accepted.  She was an icon whose personality and mind will be sadly missed.
– Michael F. McTaggart, Esq.  President, Delaware State Bar Association
A Message from DSBA President Michael F. McTaggart on the
100th Anniversary of the 19th Amendment

:

Today, August 18, marks the 100th Anniversary of the Ratification of the 19th Amendment, the Amendment to our Constitution which granted the right to vote for half of the population who had no such right.  State representative, Harry T. Burn, cast the tie-breaking vote in the Tennessee Legislature to make that state the 36th to ratify the Amendment.  It is said he did so after his mother wrote him a letter encouraging him to do so. 

 So, now, for 100 years, women have had the right to vote, although not all women have had that right as we saw under Jim Crow laws and other tactics to limit the right to vote even today.  As a Bar Association, we recognize this important anniversary as a starting point, but acknowledge that the mere granting of a right does not always mean that everyone will enjoy it.  Where injustice precludes the right to vote, we stand against it.  We also acknowledge that diversity makes the country and the law stronger because law and society are not static.  They need fresh eyes, experiences, and viewpoints to keep them alive.  We are proud of the women who fought hard for the right to vote and of the men who were their allies.  But, we pray even more that this right to vote be exercised by everyone for the betterment of our city, state and country and that it be exercised with reverence for the important role it has in providing a future for our society and our laws.

– Michael F. McTaggart, Esq., DSBA President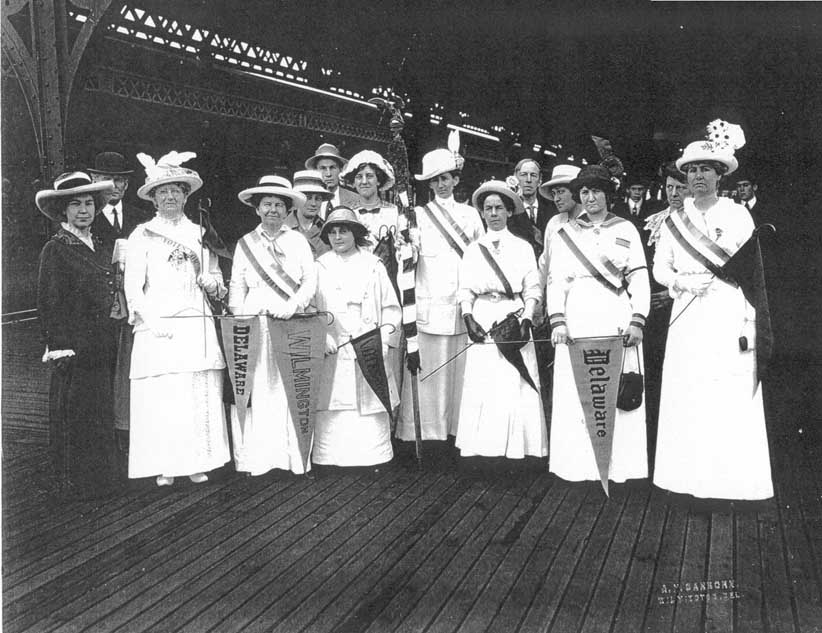 And from our Women and the Law Section:
August 18, 2020, marks 100 years since the ratification of the 19th Amendment! 
The 19th amendment granted women the right to vote (although the fight for suffrage continued for some women well past this date).
Since hugging, high-fiving and other congregations of festive fanfare are on hold right now, we want to suggest to you a few ways to celebrate this historic milestone!
5 Ways to Get Down with the Centennial Celebration!
Get Curious:  Watch a series of one-minute videos that highlight people who made woman suffrage a reality—including those women who continued the fight for full enfranchisement beyond 1920.
Get Intrigued:  Brush up on your 19th Amendment history and its impact on American history with a quick overview from the first Women's Rights Convention to the Voting Rights Act of 1965. Follow along with state-by-state ratification of the 19th Amendment from first few states to ratify the amendment to Tennessee's deciding vote on August 18, 1920 and the amendment's certification on August 26, 1920.
Get Chatty: Talk with influential women in your family or life that have lived history to share their journeys and reflect on opportunities for women to participate in civic engagement throughout generations. Maybe even create an oral or written history, photo album, or social media posts to share or to inspire others to have their own conversations.
Get Artsy:  Did you know that the cat was the unofficial mascot of the suffrage movement?  In April of 1916,  women suffragists Nell Richardson and Alice Burke traveled the country spreading the word about women's suffrage and along the way they adopted a cat that ultimately became their unofficial mascot and a symbol of suffrage.  Take this time to channel your inner artist (bedazzle gun anyone?) and decorate your very own Suffrage Cat!  Bonus -this is a great way to teach children about women's suffrage!
https://www.nps.gov/articles/upload/Suffrage-Cat-Printable-Version.pdf
Get Comfy: How about curling up with your Suffrage Cat and finding the names of 20 Suffragists in a word search puzzle- https://www.nps.gov/articles/000/suffragists-word-search.htm
DSBA Press Conference on Attacks on the Court of Chancery
RELATED DOCUMENTS
Read Transperfect Litigaton Case Law:
Click here to access the Joint Study of the Delaware Courts Conducted by the Delaware State Bar Association and the Delaware Chapter of the American College of Trial Lawyers.