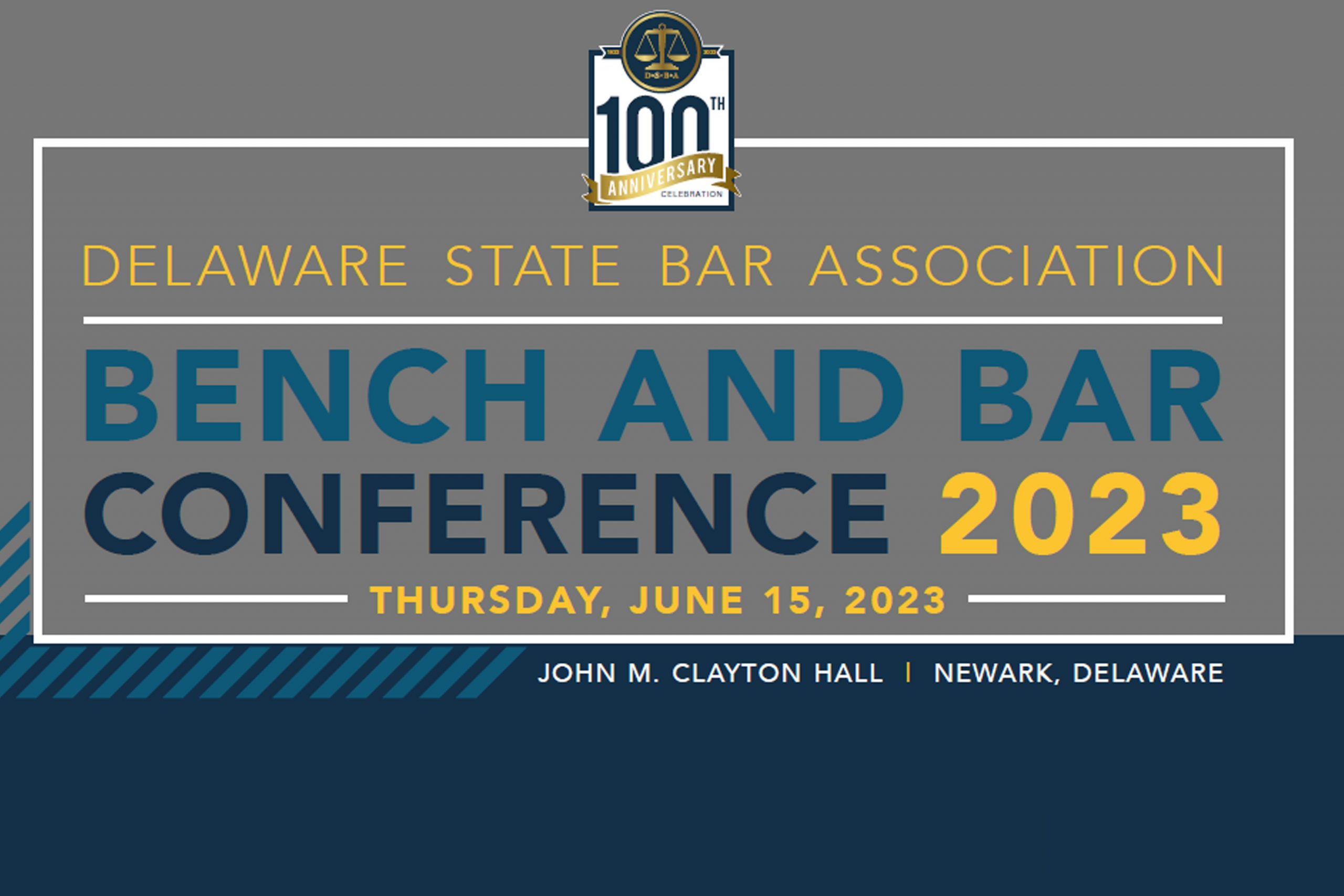 BENCH & BAR 2023: 100 YEARS – LOOKING BACK, MOVING FORWARD
June 15, 2023 @ 9:00 AM

-

3:00 PM
Bench & Bar 2023 – SCHEDULE:
DSBA 100 YEARS: Looking Back, Moving Forward
8:00 a.m. – 9:00 a.m.
Registration/Breakfast
9:00 a.m. – 9:15 a.m.
Welcome 
Charles J. Durante, Esq.
Connolly Gallagher LLP
State of the Judiciary
Honorable Collins J. Seitz, Jr.
Chief Justice, Supreme Court of the State of Delaware
9:15 a.m. – 10:45 a.m.
CLE- Plenary Session
Reform and Rigor: How Delaware's Bar Admission Reform Efforts Can Be a Model for the Nation
Keynote Speaker:
Aaron N. Taylor,
Senior Vice President, Executive Director at AccessLex Institute Center for Legal Education Excellence
10:45 a.m. – 11:00 a.m.
Refreshment Break & Vendor Visit
11:00 a.m. – 12:00 p.m.
Annual Meeting
This includes the passing of the gavel from Chuck Durante to Kate Harmon, the report of the Nominating Committee for the 2023-2024 Executive Committee, and presentation of the First State Distinguished Service Award to William E. Manning of Saul Ewing.
12:00 p.m. – 1:00 p.m.
Luncheon
1:00 p.m. – 2:30 p.m.
Afternoon CLE Breakout Sessions
(Go to one of these 4 topical discussions:)
A. The LINK: Domestic Violence, Animal Abuse, and Child Welfare

Panel will present on the links between various forms of abuse and how we can use that knowledge to better protect and support victims.  In addition, the panel will discuss the importance of family relationships (especially those of children) with their pets with a focus on how uncertainty in divorce proceedings relates to the future of their pets.

Panelists: Chief Judge Michael Newell, Judge Jennifer Ranji, Kara Swasey, Esq., Tania Culley, Esq., Jenna Milecki, Esq. & Janine Howard O'Rangers, Esq.

B. LEAVE IT TO THE MEDIATOR

According to the most recent statistics from The American Bar Association, approximately 90% of civil cases resolve short of trial.  This panel of experienced mediators will provide their perspectives on how best to prepare for mediation, present your case during mediation, and avoid some common pitfalls throughout the process.  The panel will also address some of the ethical obligations that can arise while engaged in the alternative dispute resolution process.

Panelists: Vice-Chancellor Joseph R. Slights, III (Ret.), David A. White, Esq., Yvonne Takvorian Saville, Esq., Bernard Conaway, Esq., & Kathi A. Karsnitz, Esq.

C. WHO'S CRIME IS IT ANYWAY?

This panel will discuss an update to Brady obligations and the new proposed change to Criminal Rule 16.  It will also touch upon a criminal best practices and update on any recent new Supreme Court decisions in the field.

Panelists: Abigail Rodgers, Esq., Sonia Augusthy, Esq., & Hon. Danielle Brennan

D. REAL WORLD CHANCERY

This will look at the Court of Chancery's Greatest Hits 2022-2023.

Members of the Court of Chancery will discuss hot topics on the court's docket in the past year, including SPACs, advance notice bylaws, and Caremark liability.

Panelists:  Chancellor Kathaleen St. Jude McCormick,, Vice-Chancellor Nathan A. Cook, Vice-Chancellor Lori W. Will, Benjamin M. Potts, Esq. & Mae Oberste, Esq.
—
2:30 p.m. – 3:00 p.m.
Raise a glass and toast to the 100th Anniversary of DSBA and have Desserts.
REGISTRATION INFORMATION AND RATES
This CLE will be conducted live at Clayton Hall, University of Delaware. There will not be a Zoom option.  A recording of the CLE portion of the event may be available at a later date.
For further information or questions, please email: reception@dsba.org.
| CLE PRICING INFORMATION | Cost: |
| --- | --- |
| DSBA Members  (If registering before 6/7/2023) | $225 |
| DSBA Members (If registering on 6/8/2023 or beyond) | $250 |
| DSBA Government Members (scholarships may be available via the Supreme Court) | $150 |
| Non-members (get member rate by JOINING) | $350 |
| Pennsylvania Credit – add: | $12 |
* advertised price is for the standard member rate.
OUT OF STATE CLE CREDIT INFO
Those attendees who wish to receive CLE credit, other than from Delaware or Pennsylvania, should contact their individual State's CLE Commission for credit. The Delaware State Bar Association can provide you with the Agenda (included in the Materials sent with your registration confirmation) and a Certificate of Attendance (upon completion of the webinar), which should meet the requirements of compliance.
All rates include CLE Seminar and any materials. To register now or review DSBA CLE Policies, click below.
Thank you to our Sponsors and Exhibitors for Bench and Bar 2023!
Delaware Law School at Widener University
CW Wealth Management Group
Jamestown Hospitality Group
Wilmington University School of Law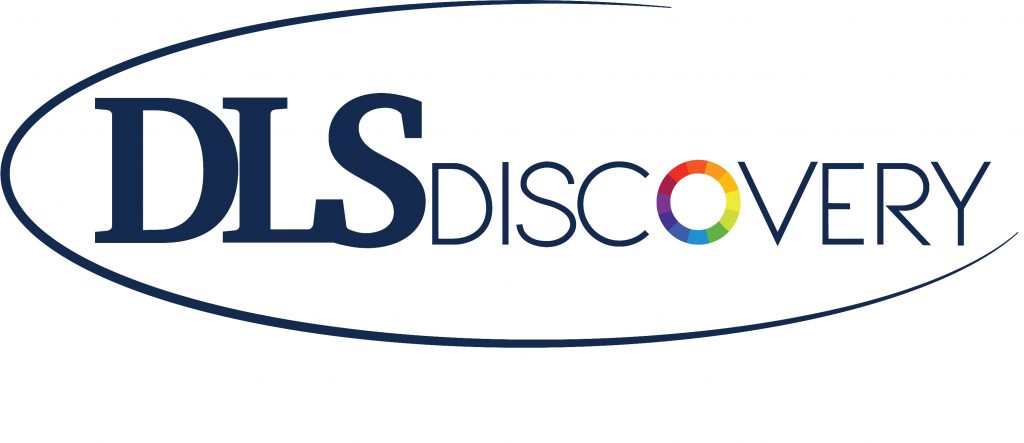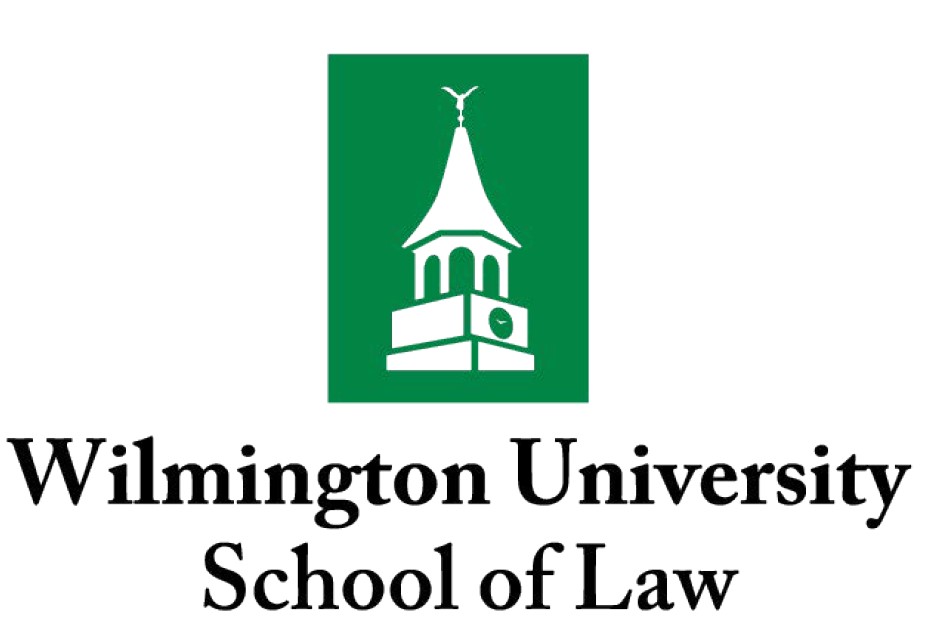 Belfint, Lyons & Shuman, CPAs
Diamond State Financial Group