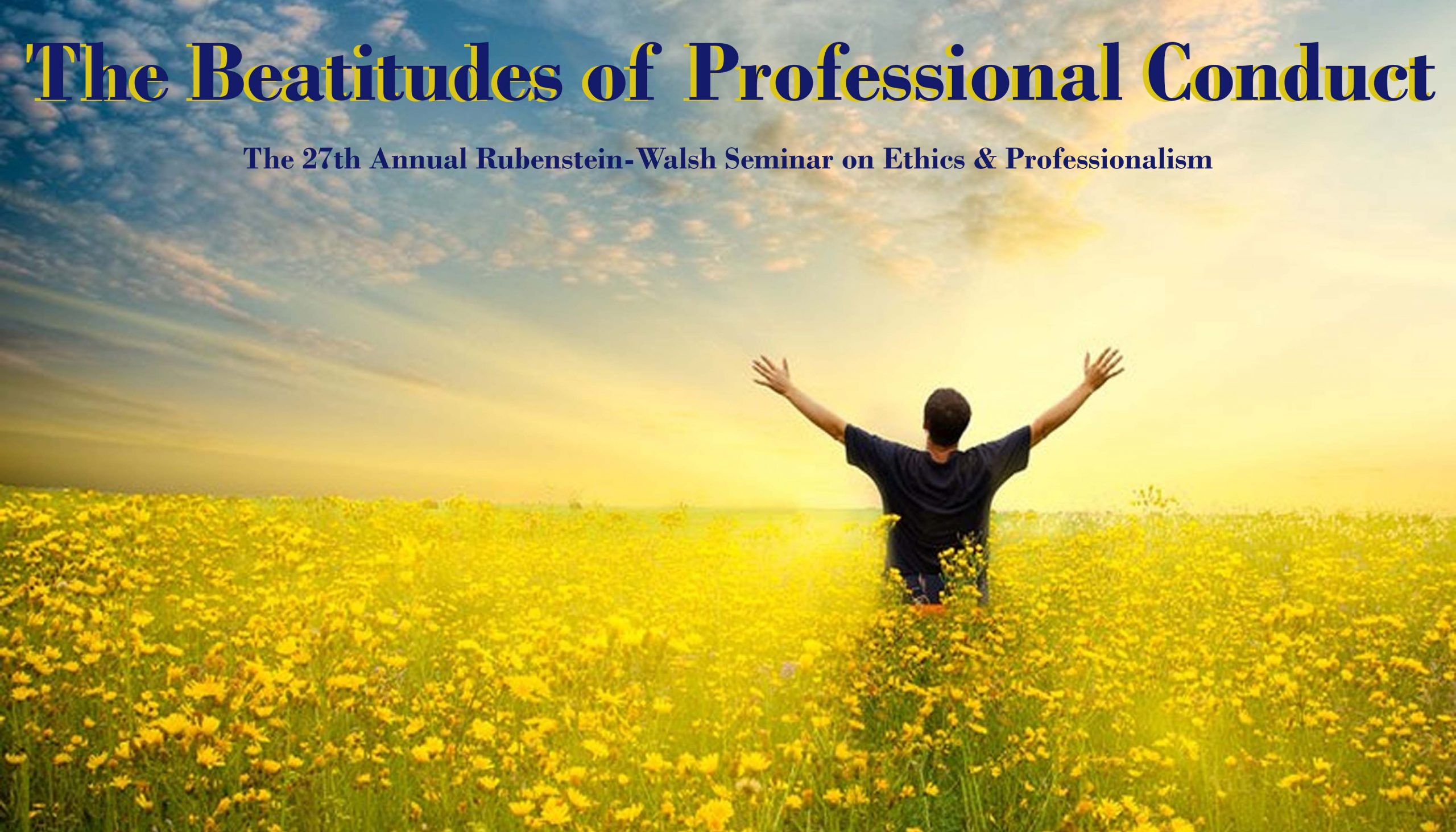 27th Annual Rubenstein-Walsh Seminar on Ethics and Professionalism 2022
February 11, 2022 @ 8:30 AM

-

12:45 PM
4.0 Hours of CLE credit in Enhanced Ethics for Delaware and Pennsylvania Attorneys
You may register for this event ONLY via Zoom.  You will receive a Zoom link by email immediately (check spam folders if you do not.)  If you do not receive this link, please contact Reception@dsba.org.
This annual ethics seminar co-sponsored by DSBA and the St. Thomas More Society of Delaware presents speakers and topics which touch on many of the very important issues which attorneys must understand.  Thomas More faced adversity and danger yet stood by the principles of his religion and the legal profession; this seminar seeks to help provide the tools to strengthen the legal profession and those who practice it.
CLE SCHEDULE:
27TH ANNUAL RUBENSTEIN-WALSH SEMINAR ON ETHICS AND PROFESSIONALISM
Sponsored by the Delaware State Bar Association and
the St. Thomas More Society
Friday, February 11, 2022, 8:30 a.m. – 12:45 p.m.
 4.0 hours CLE credit in Enhanced Ethics for
Delaware and Pennsylvania Attorneys (pending)
THE BEATITUDES OF PROFESSIONAL CONDUCT
Moderators
The Honorable Mary M. Johnston
Superior Court of the State of Delaware
The Honorable Sherry R. Fallon
United States District Court for the District of Delaware
Matthew F. Boyer, Esquire
Connolly Gallagher LLP
 8:25 a.m. – 8:30 a.m.
Welcome
8:30 a.m. – 9:30 a.m.
"Blessed are the Pure at Heart"
Staying Abreast of Developments in Legal Ethics
David A. White, Esquire
Chief Disciplinary Counsel
Kathleen M. Vavala, Esquire
Office of Disciplinary Counsel
Charles (Chip) Slanina, Esquire
Finger & Slanina LLC
 9:30 a.m. – 10:30 a.m.
 "Blessed are Those who Hunger and Thirst for Righteousness"
Protecting the Attorney-Client Privilege in Litigation
The Honorable Abigail M. LeGrow
Superior Court of the State of Delaware
The Honorable Lori W. Will
Court of Chancery of the State of Delaware
John D. Balaguer, Esquire
White and Williams LLP
10:30 – 10:45 a.m.
Break
 10:45 a.m. – 11:30 a.m.
"Blessed are Those who Mourn"
Client Confidentiality in the World of Trusts and Estates
David Ferry, Esquire
Ferry Joseph P.A.
Denise Nordheimer, Esquire
The Law Offices of Denise D. Nordheimer, LLC
 11:30 a.m. – 12:00 p.m.
"Blessed are the Geeks"
Ethical Issues in the Use of Technology
Ryan P. Newell, Esquire
Young Conaway Stargatt & Taylor LLP
Margaret (Molly) DiBianca, Esquire
Clark Hill PLC

12:00 p.m. – 12:45 p.m.
"Blessed are the Peacemakers"
The Role of Special Masters in Addressing Issues of Ethics and Professionalism
The Honorable Paul Wallace
Superior Court
The Honorable Andrea Rocanelli
Superior Court (retired)
Gregory B. Williams, Esquire
Fox Rothschild LLP
REGISTRATION INFORMATION AND RATES
This CLE will be conducted ONLY via Zoom. To register, visit www.dsba.org/cle and select this seminar. You will receive an email back from Zoom immediately providing you with the correct login information. If attending by zoom and you do not receive this email, FIRST check your SPAM or JUNK folders as they are sometimes misdirected by your email provider.  If you cannot find this Zoom link, please contact DSBA via email: reception@dsba.org. The Supreme Court of the State of Delaware Commission on Continuing Legal Education cannot accept phone conferencing only. You must attend through a device that allows DSBA to obtain your Bar ID in order to receive CLE Credit. Your attendance will be automatically monitored beginning at the scheduled start time and will be completed when the CLE has ended. If you enter or leave the seminar after or before the scheduled star t /end time, you will receive credit only for the time you attended. Your  CLE credits will be submitted to the Delaware and Pennsylvania Commissions on CLE, as usual.
| CLE PRICING INFORMATION | Cost: |
| --- | --- |
| DSBA Members | $240 |
| DSBA Government Members | $215 |
| | |
| Non-members (get member rate by JOINING) | $340 |
| Pennsylvania Credit – add: | $16 |
* advertised price is for the standard member rate.
OUT OF STATE CLE CREDIT INFO
Those attendees who wish to receive CLE credit, other than from Delaware or Pennsylvania, should contact their individual State's CLE Commission for credit. The Delaware State Bar Association can provide you with the Agenda (included in the Materials sent with your registration confirmation) and a Certificate of Attendance (upon completion of the webinar), which should meet the requirements of compliance.